Private Patients
I am a registered consultant with all of the major private healthcare insurance companies in the UK including BUPA, AXA PPP, Norwich Union, Cigna Healthcare, and Western Provident Association
If you wish to see me as a private patient it is best to get a referal letter from your GP. Firstly,it is a good idea to let your GP know of any medical treatment your are going to have, and some healthcare insurance companies insist on a GP referal to me before agreeing your treatment.
Outpatients
I see private outpatients in the outpatients department at the Manor Hospital in Oxford. The hospital has its own underground parking and you will be provided with an entry code on booking your appointment.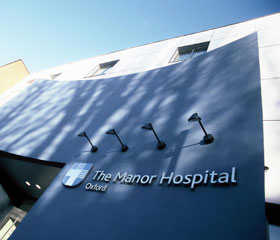 The Manor Hospital is conveniently located in Headington, Oxford. The hospital is easily reached from the M40 and the Oxford ringroad. A map and directions are available on the Manor hospital's web-page, or the location can be seen below.
Outpatients should check in with hospital main reception in the atrium of the hospital, you can then be directed to the clinic rooms or MRI scanning as required
What should I Bring?
Ideally any previous scans or letters relating to you condition, especially if you are attending for a second opinion. Details of your insurance scheme are also useful as it will make it easier to arrange any further investigations such as scans or blood tests.
Operations / Inpatients
Most private operations are performed at the Manor Hospital itself. This is a new private hospital with state of the art facilities including intensive care, modern operating suites, and an MRI and CT scanner on site.
For spinal operations and the more straightforward intracranial surgery the Manor hospital has all of the equipment needed. Occasionally when more specialist equipment is required for more complex surgery I prefer to perform surgery at the John Radcliffe Hospital.
For contact details of my private PA please use contact the number on the top of the page, or the form on the contacts page.